posted under System error by mknace unlimited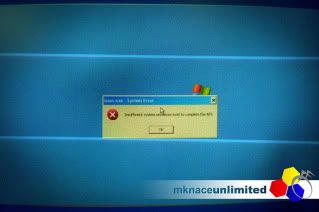 Masalah :
Lsass.exe - System error
Detail :
Issufficient system resources exist to complete the API
Keterangan :
Selepas windows XP dibuka, hanya tetingkap System Error yang keluar dengan detail seperti diatas. Selepas butang OK ditekan, sistem akan re'boot' semula; dan ini akan terus berulang.
Masalah disebabkan oleh ruangan HDD yang tidak mencukupi, senang cakap dah penuh.
Penyelesaian :
01. Boot semula PC.
02. Tekan F8 berulang kali sehingga keluar boot menu
03. Pilih Safe Mode
04. Restore ke point sebelumnya.
05. Selesai.
06. 'Right click' My Computer
07. Pilih 'Properties'
08. Klik 'Settings' pada ruangan 'Performance'
09. Klik tab 'Advanced'
10. Klik butang 'Change' pada ruangan 'Virtual memory'
11. Ubah 'Initial size' dari 192 kepada 384
12. Ubah 'Maximum size' dari 384 kepada 768
13. Klik 'OK'
14. Reboot semula komputer
15. 'Defrag' semula drive C
16. Reboot semula komputer